How to find us

The municipality of Baumholder is located in Rhineland-Palatinate in the district of Birkenfeld, on the border with Saarland.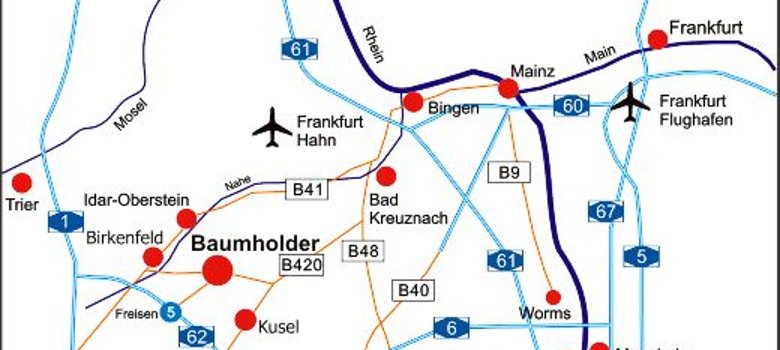 It lies between the Hunsrück and the Nordpfälzer Bergland.
In the northern part, the Nahe River intersects the Baumholder association municipality.

13 local communities and the town of Baumholder, which is also the seat of the administration, belong to the association community.
On a total area of 13,750 ha there are about 11,000 inhabitants and about 8,000 members of the American armed forces.



train connection with Vlexx
The secondary line RB 34 runs every hour to Baumholder, Ruschberg, Heimbach/Ort, Nohen and Kronweiler to Idar-Oberstein.
In Idar-Oberstein you have connection to secondary line RE 3 to Bad Kreuznach, Kirn and Saarbrücken or in the direction Mainz and Frankfurt /Main.