Railroad Pedal Car

Beyond doubt, one of the most exciting activities the Glan-Valley has to offer: 40 km of unused railroad track want to be discovered by you. With the Draisine, a vehicle built for the tracks, you can experience the area first hand.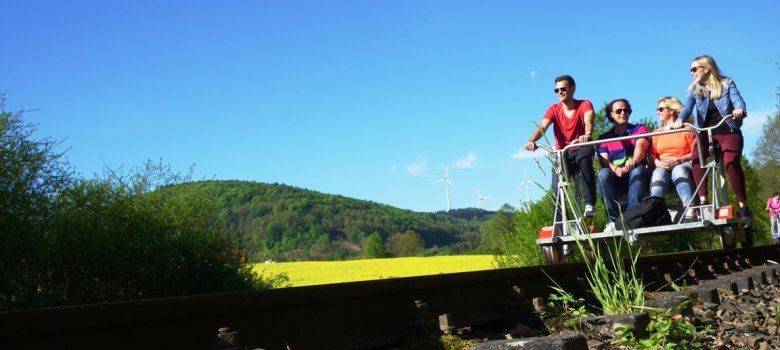 While on the track, you can stop and get lunch in one of the restaurants, explore towns and villages alongside or just enjoy the beautiful nature. You have to schedule your visit very early because the tour is often booked out months in advance.

Like a bicycle, the trolley is driven with pedals and runs on four wheels on the track as a train - steer is not necessary. So you can freely observe the scenery or entertain carefree.
On the trolley are up to four sleeps. Two of them (from a height of about 1.50 m) to pedal and bring the trolley ahead. On the bench (76 cm wide) up to two people can travel comfortably. Each person must have a seat!
Behind the seat there ist plenty of space for luggage and bicycles.
Where does the tour start?
Driving is all day in one direction without oncoming traffic. Here are 20 km or 40 km length to choose from. Starting points are Lauterecken and Altenglan day alternately and Staudernheim. The return journey can be made by public transport along the route. (Information on the bus service can be found here )
on even days the Handcars drive from Staudernheim to Altenglan, starting points are Staudernheim and Lauterecken
on odd days the Handcars drive from Altenglan to Staudernheim, starting points are Altenglan and Lauterecken