Dream loop Bärenbachpfad

Bärenbach Trail leads you through meadows and fields with unique long-distance views and through varied woodland with beautiful streams and mysterious places.
The silence of the forest and the quiet of nature invite you at many places to stay and enjoy your hike.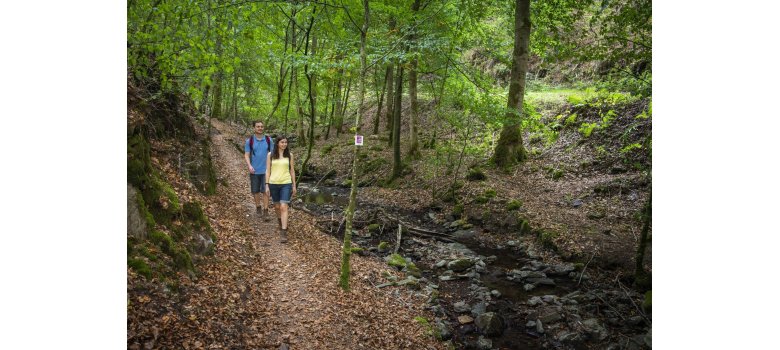 The moderate hike Dream Loop "Bärenbachpfad" leads along meadows and fields with unique views, diverse forestland with lovely stream courses as well as mysterious places telling countless stories of the past.
The Bärenbachpfad offers a marvelous view of the region up to the Hunsrück, the Palatinate region and the city of Baumholder. You can also gain unique insights into actively-used military training area in Baumholder, which functions as a biotope, a safe haven, and is also still used by the military.

The calm of the forest and the tranquility of nature invite hikers to stay and indulge in the beautiful experience at one of the numerous rest along the way.
Starting point:  Parking place at the city lake, Ringstraße, 55774 Baumholder,
Length:  14 km
Duration:  approximately 4 hrs
Difficulty level: moderate due to a few elevations
Elevation:   307 m
Decrease:   317 m

Follow this sign: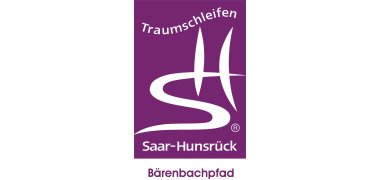 Hotel-Restaurant "Zum Stern" –certified hikers host-
opening hours
tuesday - friday 10.30 - 14.30 Uhr &  17.00 Uhr
meals are served between
11.00 - 14.00 Uhr & 17.00 - 21.00 Uhr
Annette Rech, Ausweilerstr. 2, 55774 Baumholder,

bakery "Müller" at the parking place city lake, cakes & coffee

Eisdiele Dolomiten, Poststraße 1a, icecream & coffee